Architectural Studies, Floor Plans, and
Technical Specifications of
The Buhl Planetarium and Institute of Popular Science
Pittsburgh, Pennsylvania
America's Fifth Major Planetarium
October 24, 1939 through August 31, 1991
[Operated by Carnegie Institute
from January, 1987 through February, 1994]
October 24, 1999 marks the 60th anniversary of
The Buhl Planetarium and Institute of Popular Science !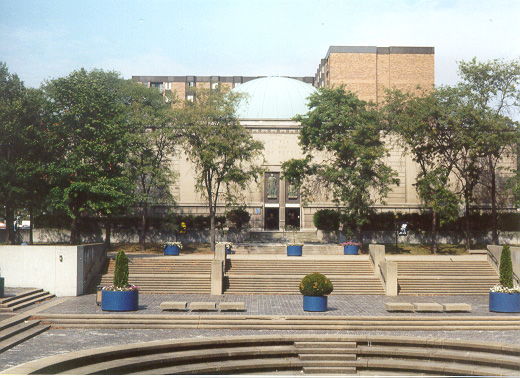 Floor Plans and Technical Specifications
The following are two architectural floor plans, along with a sheet of technical specifications, for The Buhl Planetarium and Institute of Popular Science. This information, which was printed in 1955, closely approximates the original floor plans and specifications when the building opened in 1939. Other than some changes in gallery spaces[a Computer Lab was installed in part of the Octogon Gallery in 1983 and a Mezzanine level, for offices, was installed in the East Gallery(a.k.a. "Hall of Astronomy" or "Hall of the Universe") in the late 1980s] these floor plans are pretty accurate to this day. Please note that the enlarged versions of the architectural floor plans take longer to load onto a computer.
Cover Page
Building Lower Level Floor Plans -
Normal Size ***Enlarged Version
Building Side View Floor Plans -
Normal Size ***Enlarged Version
Other Maps of Buhl Planetarium Building Interior
Links to Buhl Planetarium Listing on
County of Allegheny Real Estate Web Site
Buhl Planetarium -- Block: 23-R Lot: 103

Special Note: When the Allegheny County Real Estate Web Site originally was established, the following links were active and provided information about the Buhl Planetarium building from this Real Estate Web Site. Apparently, due to the fact that the Buhl Planetarium property is owned by the City of Pittsburgh and is exempt from the payment of property taxes, Buhl Planetarium property is no longer included on the web site, and hence, the following links are now dead links.

General Information *** Photo of Building *** Architectural Dimensions[Ground Level]
Related Links
Photographs of The Buhl Planetarium Construction Project(1937-1939)
---
CAPA Study
Over the years, there have been several plans for reuse of The Buhl Planetarium and Institute of Popular Science building, once it was vacated by The Carnegie Science Center in February of 1994. Below is a study, commissioned by the School District of Pittsburgh, regarding the possible use of the building as part of a campus for the Pittsburgh High School for Creative and Performing Arts(CAPA). The Buhl building, by itself, is much too small to house this high school; hence, a three floor annex was proposed to be built behind the Pittsburgh Children's Museum for use as part of the high school, in addition to use of the Buhl building. This proposed use of the Buhl building was strongly supported by the North Side Leadership Conference, which is composed of all of the leaders of all North Side community organizations.

At the conclusion of the study, it was found that renovation of Buhl, and construction of the three-floor annex, for use by CAPA would cost in the neighborhood of $20.5 million. The Pittsburgh Board of Public Education decided that, for that high a cost, they would prefer that CAPA be built in the Downtown Cultural District, close to other art galleries and theatres. Soon afterward, a local philanthropist donated a plot of land, at the corner of Ninth Street and Fort Duquesne Boulevard(former site of a Gulf gasoline station, with a unique sign) in the Downtown Cultural District, to the School District for CAPA. Hence, the School District now plans to construct CAPA on this site, while also using some floors of an adjacent office building for CAPA.
Final Draft
Pittsburgh Board of Public Education Feasibility Studies for
Rogers CAPA, Pittsburgh CAPA & Buhl Planetarium
Submitted by MacLachlan, Cornelius & Filoni
1997 December 1
Photograph of 1981 play rehearal in Buhl Planetarium's Hall of the Universe
From the Tripoli Rocketry Association, Pittsburgh Prefecture, weekly newletter, Rocket Mail of 1998 June 10 (Volume 6 Number 23).
---

Disclaimer Statement: This Internet Web page is not affiliated with the Henry Buhl, Jr. Planetarium and Observatory,
The Carnegie Science Center, or The Carnegie Museums of Pittsburgh/Carnegie Institute.

This Internet, World Wide Web Site administered by Glenn A. Walsh.
Unless otherwise indicated, all web pages in this account are Copyright 1999-2001, Glenn A. Walsh, All Rights Reserved.
Additions and corrections to: buhlplansspecs@planetarium.cc

Last modified : Tuesday, 20-Nov-2007 20:48:35 EST.